MOUT site
oh goodie.....woke up in the morning and did my usual hygiene crap...and got our gear ready and headed downstairs along with Johnson for formation....and we would ground our gear and the PG would report in to the DS and soon we would all march to the DFAC for our yummy Breakfast chow :D Anyways we would pass by Foxtrot Company...and damn they have like 45 people on profile....damn....anyways I bumped in DJ Berger...at the DFAC...gee some messed up private...anyways after yummy chow we would get back to the company and get on our gear and head to trans. From there we would be dropped off at the MOUT site. We would get on the bus and ground our gear at the assembly area....the MOUT site looks pretty nice...it had arabic signs and such...and it looked like a warzone...I can imagine what Iraq looks like...Anyways after assembling 1st platoon looks like they fucked up so DS Code smoked the hell out of them...something about a mess in their bay oh well not my shit to worry about but anyways we would head into the main building where there was bleachers and it was air conditioned. There we would get a briefing and our range cadre....there would be stations and we would be split up....first we would learn how to manuever in an urban environment like this in a line formation and we would like learn how to look and be on alert for enemies and such... we would have to be spread out so we wouldn't be hit by grenades in a worse case scenario situation and such.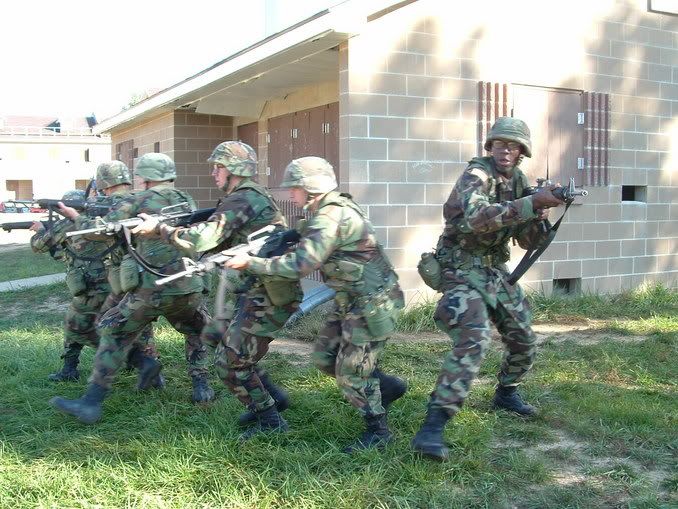 Then we would proceed to the area where we would learn how to clear rooms....and the basics using a 4 man team....kinda hard to explain I'd rather do it in person (it's easier to say but here's a picture of what we did.)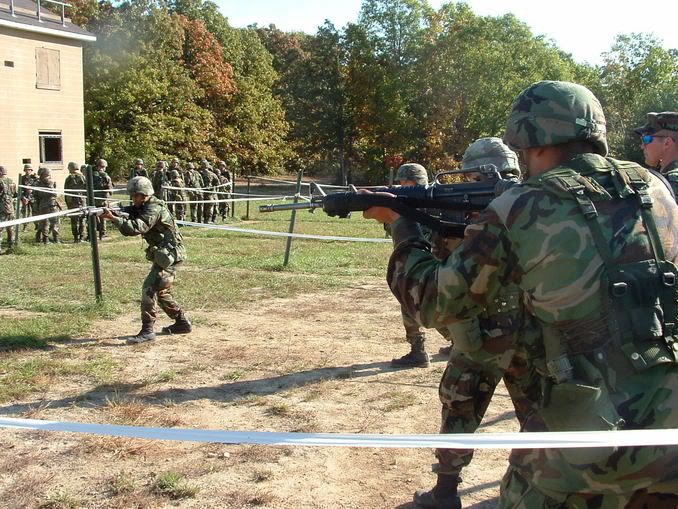 Then we would go to a site where we would learn how enter a building with a 4 man team without a ladder using a few tools in a matter of less than 30 seconds...our team would be competing with each other....my team made it in 19 seconds...impressive eh....others made it 15-23 seconds average.....then we would get a break and eat our MREs and then the range cadre would show us some cool MP videos and some war videos...damn it made me so hyped up....watching a terrorist shoot a rifle at a tank...and then getting blown up..that's so highspeed...but anyways after that my group would approach the station where we would climb the ladder with a 4 man team in less than 30 seconds again..we did in 21 seconds....nice....I love this stuff....this is the kind of training I like :D After that we would cool off and then head on trans back to the barracks......and then dinner chow, mail call...got a letter from Theresa yum thanks Swedish Fish! and then shower....and sleep..I got fireguard 0200-0315...it sucks....anyways gotta sleep...